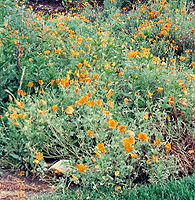 The natives of Capistrano Valley were known as the Acjachemen (A HACH A MEN), until the mission was established. It became a custom that the Indians surrounding the mission adopt the name of that mission thus the local Acjachemen nation became known as Juanenos.
Our state flower, the California Poppy, is native to this area. The Poppy has many uses. Poppies along with acorns were a staple in the diet of the Juanenos. The seeds were ground into flour and roots were chewed as pain reliever.
Native Indian Dress | Mission Indian Dress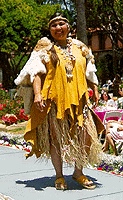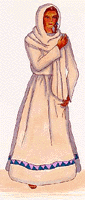 Living History Character Jacque Nunez represents the natives that actually lived here. Jacque is a ninth generation Rios decendant of the Juaneno band of Mission Indians. Jacque uses plants to teach the traditions and songs of her people to visiting students at the Mission. She holds "Journeys to the Past" year round and summer camps.
The first appointed governor of California, Gaspar Portola led Father Serra and soldiers on the first land expedition from Mexico to California. He wears an elaborate outfit for the frontier, along with a fancy powdered wig. This attire was only worn on formal occasions as when a king's representative was visiting.
The Spaniards' fondness for olive oil made it a must to grow olives at the Missions. The tree was also used to produce soap. Handkerchiefs soaked in perfume were worn on the sleeve to distract others from ones unpleasant body odors.
The only qualifications for a frontier soldier were to be Catholic, 16 years of age and with no physical defects. These fellows were called "Leather Jackets" because of the several layers of deer skin vests they wore which weighed 18 pounds.
The soldier's main job was to protect and escort the padres, and courier between Missions. Eventually they became teachers of the Spanish Language, agriculture, animal husbandry, and other trades. As they traveled along Camino Real, they broadcast mustard seeds which grew to mark the "Golden Trail" between all the Missions. The mustard plants we see covering our hills today are descendants of those brought here 200 years ago.