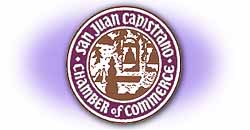 Click to visit the
Official Chamber of Commerce Site
City of San Juan Capistrano
Chamber of Commerce
31781 Camino Capistrano #306
(949) 493-4700


Mailing Address:

P.O. Box 1878

San Juan Capistrano, CA 92693-1878
The City of San Juan Capistrano is predominantly residential, with a mix of commercial, industrial, agricultural and visitor oriented uses. The City is in southern Orange County, situated in a picturesque coastal valley midway between Los Angeles and San Diego. San Juan Capistrano can be accesed by air, rail and automobile, as it is situated twenty miles south of John Wayne Airport, on the Amtrak Rail Line and the I-5 Freeway.

The Mission has ben the center of San Juan Capistrano since its founding on November 1, 1776. The seventh in the chain of California Missions, it stands as a historical, cultural, educational and religious center. Visitors can also enjoy the Los Rios Historic District, the oldest residential neighborhood in California, the O'Neill Museum, the Capistrano Depot, Historic Buildings, and outstanding shopping and dining opportunities that exist in our Historic Town Center.

The annual return of the swallows celebration is on March 19th, the Feast of Saint Joseph. The migration of the famous swallows from Argentina to San Juan Capistrano inspired the song "When The Swallows Return to Capistrano" composed by Leon Rene.

---

Attention San Juan Capistrano Business Owners,
The Chamber of Commerce has updated its' web site with new information, business listings and more. In an effort to promote the local business community by using the Internet as a marketing tool, we are teaming up with Purpose Media. We have chosen Purpose Media as the official internet company for web site development of Chamber members sites and will be working to promote your businesses through www.sanjuanchamber.com and www.sanjuancapistrano.net, (sjc.net).
The Feista Association's has been designed by Purpose Media and is hosted on www.sanjuancapistrano.net and will also be accessable through our Chamber site. This will bring a huge audience to our business community as the public comes to the Chamber site to seek out information and www.sjc.net/fiesta to plan their participation in the festivities culminating with the Swallows Day Parade.
Purpose Media is offering Chamber members special packages and the pages created for your business will be linked directly from your listing on the Chamber of Commerce site to www.sanjuancapistrano.net (sjc.net). Chamber members will benefit from exposure on both sites and be assured of the highest quality of graphic design, programming and Internet marketing. As we build this network of San Juan Capistrano businesses, the business community will benefit through co-promotion and the combined marketing expertise of the Chamber of Commerce and Purpose Media.