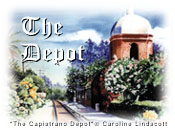 One of the more outstanding features of our beautiful San Juan Capistrano is the train depot.
It was completed October 8, 1894 and was written that: "Old San Juan will soon blossom with the finest depot on the Santa Fe system. We invite the architecturalistic to come view this unique building illustrated with arches, a dome 40 feet high with a mission bell, dainty ticket office and quaint old fashion fireplace that will capture the tenderfoot as he breathes the balmy sea air." The statement was by columnist Dr. Alexander Hamilton Rowan on April 14, 1894 in the Santa Ana Standard, a weekly paper.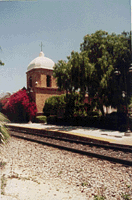 The Capistrano Depot is home to Trevors at the Tracks a new addition to the downtown area located at the South end below the dome. Offering excellent cuisine in the most beautiful of historic settings, this restaurant gives diners a choice of outside patio dining or an inside fireside table. Brick archways and an incredible art gallery add to the wonderful ambiance of this restaurant.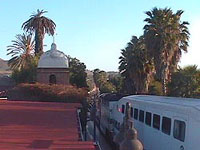 As always the sounds of children echo throughout the area as children ride the trains for the exciting experience or on the way to tour the Mission as fourth graders. During the week commuters arrive and leave with regularity to avoid congested freeways. On a visit to San Juan Capistrano this should be included as a highlight of any trip.
All Images Are Property of www.sanjuancapistrano.net and © 1998 Purpose Media
All Rights Reserved WorldWide Photo Credits: Steve Estrada